I am lucky to have access to many wonderful instruments and teachers.  For percussion, I mainly play tabla (more information below), though I also occasionally play dumbek, pakhawaj, and ghatam.   For melody, I mainly play the sarod, mohan veena, lap steel guitar, and a "banjabab" a tenor banjo I modified (more information below).   I have modified the tenor banjo and lap steel to make more suited to play Hindustani (North Indian classical) music.
Sarod
The sarod is a North Indian classical instrument.  My guruji is the sarod maestro Soumya Chakraverty.  Sarod has 23 to 25 strings.  It is fretless, allowing long slides called meends.  Sarod is played with a jabba, a plectrum made of coconut shell.  Similar to a sitar, it has open strumming strings and sympathetic strings. 

Tabla
Tabla is a North Indian classical drum.  There are two pieces, a larger drum made of brass or aluminum, and a smaller drum made of wood.  The leather heads are held in place and given tension by adjustable leather straps down the sides.  Listen to a sample.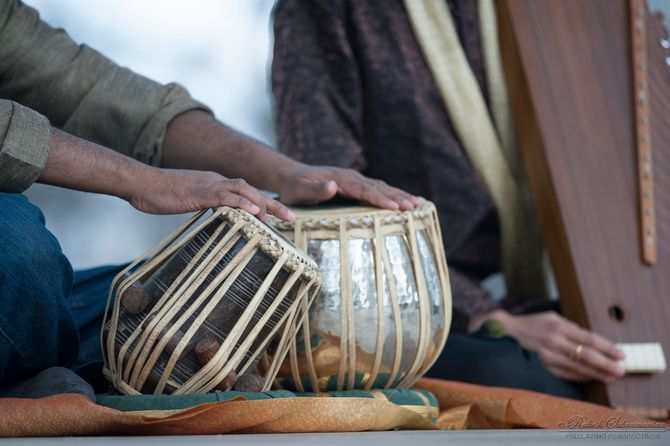 Mohan Veena
This is an Indian slide guitar invented by Pandit Vishwamohan Bhatt.  It has 3 main playing strings, 5 chikari (open drone) strings, and 12 taraf (sympathetic) strings.  I use a brass bottleneck slide on my first finger, finger picks and a thumb pick to play it.  Listen to a sample.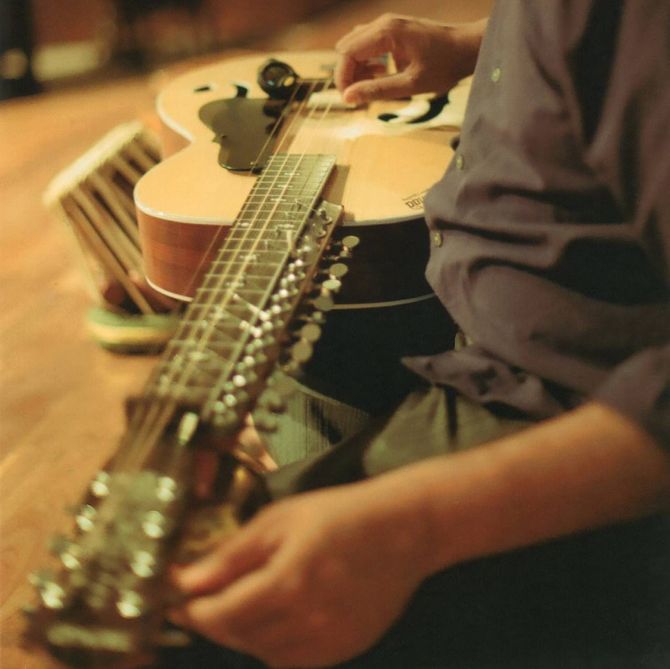 Modified Lap Steel Guitar
I modified a solid body 8 string lap steel in order to more easily play mohan veena style on it.  One of the characteristics of Hindustani classical melody I like is playing jhalla, fast passages that rely on the strumming  of chikari (open drone) strings, functionally similar to a banjo's 5th string. I added a banjo tuning peg and post half way up the neck to create a high-octave chikari (drone) string, and use a regular string slot to have a second chikari string an octave lower.  I play them with a thumb pick.  There are three main playing strings.  I play with a glass bottleneck slide.  Listen to a sample.