Deep is a creative and flexible instrumentalist.  Deep likes to perform percussion on tabla, though he occasionally performs with dumbek and pakhawaj as well.  Deep is trained in Indian classical raga music, and it inspires his compositions and improvisations.  He brings his melodic ideas to life on a variety of plucked string instruments, such as Hindustani guitar, the sarod, the mohan veena, lap steel guitar, and his self-named "banjabab" (a modified tenor banjo). 
Sarod
The sarod is a North Indian classical instrument.  Deep's guruji is the sarod maestro Soumya Chakraverty.  Sarod has 23 to 25 strings.  It is fretless, allowing long slides called meends.  Sarod is played with a jabba, a plectrum made of coconut shell.  Similar to a sitar, it has open strumming strings and sympathetic strings. 

Tabla
Tabla is a North Indian classical drum.  There are two pieces, a larger drum made of brass or aluminum, and a smaller drum made of wood.  The leather heads are held in place and given tension by adjustable leather straps down the sides.  Listen to a sample.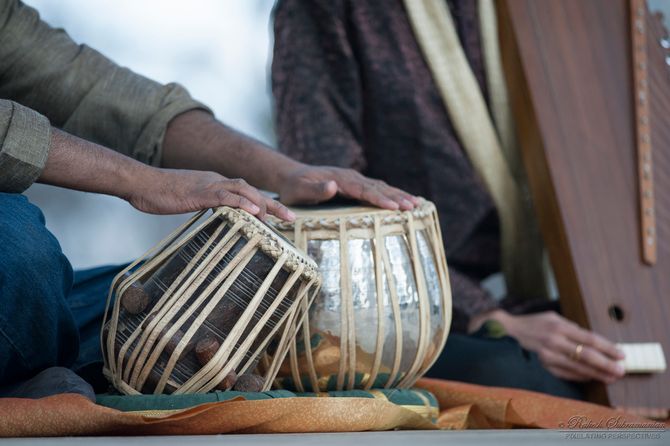 Mohan Veena
This is an Indian slide guitar invented by Pandit Vishwamohan Bhatt.  It has 3 main playing strings, 5 chikari (open drone) strings, and 12 taraf (sympathetic) strings.  I use a brass bottleneck slide on my first finger, finger picks and a thumb pick to play it.  Listen to a sample.